Well here I am again, finally updating my blog after MONTHS! I have been busy with pinterest, it is very time consuming haha. Thought I would post some projects that I have been working on.
Tie shirt!
Glittering up old shoes!
Pinterest recipes!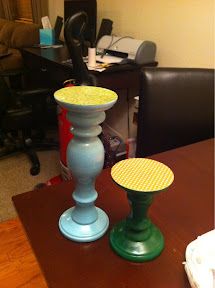 Found these at a 2nd hand store. Spray painted them and added some scrapbooking paper to the top for extra color!
Clock re-do! It was easy but time consuming.
We had a wonderful Christmas! Sean and I spoiled eachother. He got a kindle fire and new GPS. I got a Wii and $100 to agua ozul oasis!! Spa time! We spoiled our neices too, because that's what aunts and uncles do.
And then there is this.......it's some huge disgusting spider that I am attempting to get it into a jar because it was so big I didn't want to squish it on the floor. Yuk. Hope everyone had a great Christmas! And have a good new year, I will be celebrating it by working: )
- Posted using BlogPress from my iPhone